Key Information
Live Cultures+ Lab4 Probiotics provides a potent dose of 25 billion CFU live bacteria, guaranteed to expiry. With Aquamin calcium and vitamin A as beta-carotene to support digestion and gut barrier integrity

Providing 4 strains of probiotics, including Lactobacillus and Bifidobacterium, this supplement supports symptoms of IBS and constipation, and helps to restore gut health

A common challenge when supplementing with probiotics is their ability to survive stomach acid and colonise the gut. To overcome this, we use the clinically studied Lab4 blend of 4 acid-resistant probiotic strains proven to reach the gut alive. Our live cultures are also microencapsulated and are provided alongside a prebiotic for further protection against the harsh environment in the gut.

We microencapsulate our probiotic live bacteria, so the product is shelf-stable at room temperature and doesn't require refrigeration. To ensure a high dose of probiotics are still present when taking the supplement, we manufacture at a dose of 50 billion (CFU) to guarantee at least 25 billion in each capsule at the time of expiry.

Providing 4 strains of probiotics, including Lactobacillus and Bifidobacterium, this supplement supports symptoms of IBS and constipation, and helps to restore gut health. To support colonisation, most prebiotics work by feeding bacteria in the gut which can cause gas and bloating. Instead, we add Aquamin, an algae extract that acts as a protective carrier. Its unique honeycomb structure transports more live bacteria to the intestines, making it a non-bloating FOS-free prebiotic. Many probiotic strains contain lipopolysaccharides (LPS) side-chains, responsible for triggering an immune reaction, so we use LPS-free strains for support without irritation.

Free from FOS, gluten, wheat, dairy, lactose, soya, yeast, artificial colours and flavours; compatible with halal and kosher diets

Awesome product
I dealt with a lot of nausea, and have been taking these everyday and I now have hardly any nausea they have been a game changer! I really recommend these!!
LAB 4 probiotic
These probiotics are game changers, highly recommend them. I have a delicate digestive system due to surgery and these settle an upset gut and normalize digestion.
product description
Live Cultures+ Lab4 Probiotics provides comprehensive digestive wellbeing support. Each capsule of high-potency Lab4 Probiotics® contains 25 billion live bacteria, with four important strains of Lactobacillus and Bifidobacterium. Microencapsulated, stable and acid-resistant, this clinically studied blend is proven to reach the gut alive, restoring balance between good and bad bacteria. Added vitamin A (as beta-carotene) supports gut barrier integrity. Plant-based Aquamin® calcium aids digestive enzyme production and acts as a non-bloating FOS-free prebiotic, assisting bacteria through the harsh stomach environment and supporting gut colonization.

Vitamin A
contributes to the normal function of the immune system
has a role in the process of cell specialisation
contributes to the maintenance of normal mucous membranes
Calcium
contributes to the normal function of digestive enzymes
has a role in the division and specialisation

Each bottle contains 30 capsules, prooviding a 1-month supply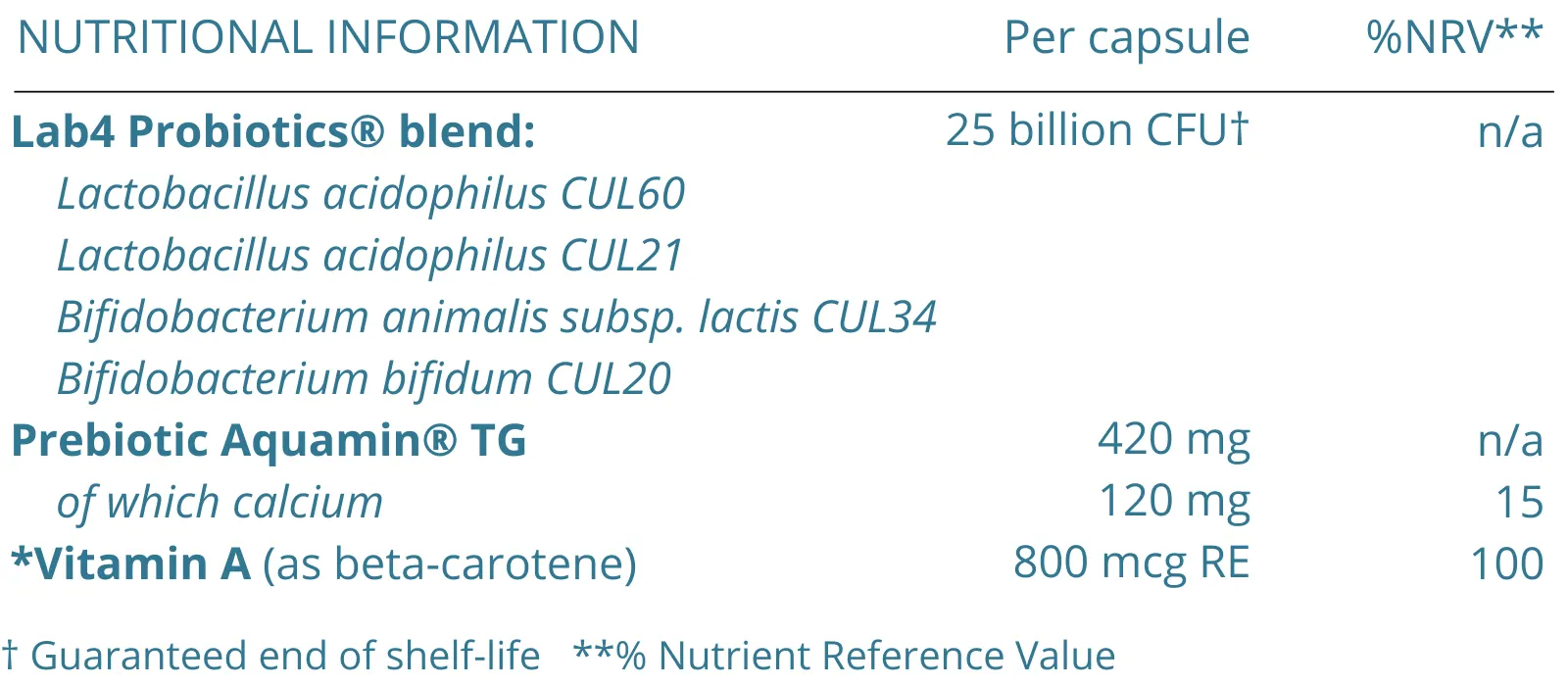 Adults: take 1 tablet daily with food. Do not exceed the above doses unless advised by a healthcare practitioner. Store in a cool. place away from sunlight.
Free From
Artificial colours and flavours
Aspartame
GMO
Halal and kosher
Lactose
Salicylates
Sugar
Suitable for halal and kosher diets
Suitable for vegetarian and vegans
Free From
Artificial colours and flavours
Aspartame
GMO
Halal and kosher
Lactose
Salicylates
Sugar
Suitable for halal and kosher diets
Suitable for vegetarian and vegans