Key Information
Studies have proven that medium roasting is the sweet spot for antioxidant levels in coffee. Too dark of a roast will start to burn off a lot of those helpful antioxidants
Roasted weekly in New Zealand by our coffee coniseur barista. We guarantee you will receive our freshest batch.
A beautifully balanced blend of Brazil Mar Azul and Columbia Canon Des Las Hermosas
With a washed coffee you are tasting the coffee itself - the origin, the coffee variety - and not the processing method.
Compared to natural processed coffees, washed coffee typically results in a more complex profile and a cleaner cup.
Our Coffee bags are made in New Zealand by people who care about quality products and protecting our earth.
Your used bags can be put in your own home compost, worm farm or buried in your garden where they can break down into small fragments in as little as 16 weeks. We recommend removing the labels and small degassing valve before composting.
Best coffee ever
I bought a bag of the freshly ground plunger coffee a few weeks ago and love the clean taste. Best coffee I have ever tasted. Highly recommended.
product description
Antioxidants are the secret to coffee's amazing health benefits
Over the past few decades, research has slowly revealed the incredible truth about coffee's health effects. Type 2 Diabetes, coronary heart disease, alzheimer's, fatty liver disease—all of these diseases and more have a far lower chance of occurring in regular coffee drinkers.

So everything from pollution, a nitrogen and oxygen rich environment, and UV radiation, as well as dietary elements like low quality food and alcohol increase the number of compounds in the body that can damage our cells. These free radicals damage lipids that give us healthy skin and brain tissue, causing things like wrinkles and decreased cognitive function (aka., premature aging!). They build up on the walls of blood vessels and lead to cardiovascular disease. They interfere with the process of cell reproduction, which can lead to growth of cancerous cells.
Antioxidants counter the development of free radicals within the body. They carry out a process called free radical scavenging, which means they come through the body tissues and consume free radicals. This means that rejuvenating effects of correctly roasted coffee doesn't just come from the caffeine that wakes you up when you're sleepy. By drinking healthy coffee, you're restoring your cells and protecting them from the damaging (yet hard-to-avoid) effects of daily life.
Antioxidants fight inflammation
Chronic inflammation plays a part in everything from heart disease, cancer, diabetes, neurodegenerative diseases (like Alzheimer's and dementia), arthritis, and multiple autoimmune disorders. It can also decrease insulin sensitivity and lead to metabolic disorder, a precursor to heart disease and type 2 diabetes. Fortunately, this single wayward bodily response also has a very effective treatment. You guessed it. Antioxidants.
High antioxidant foods are dynamite for treating oxidative stress and chronic inflammation. And you won't find a more well-loved food with higher antioxidant levels in the Western diet than coffee.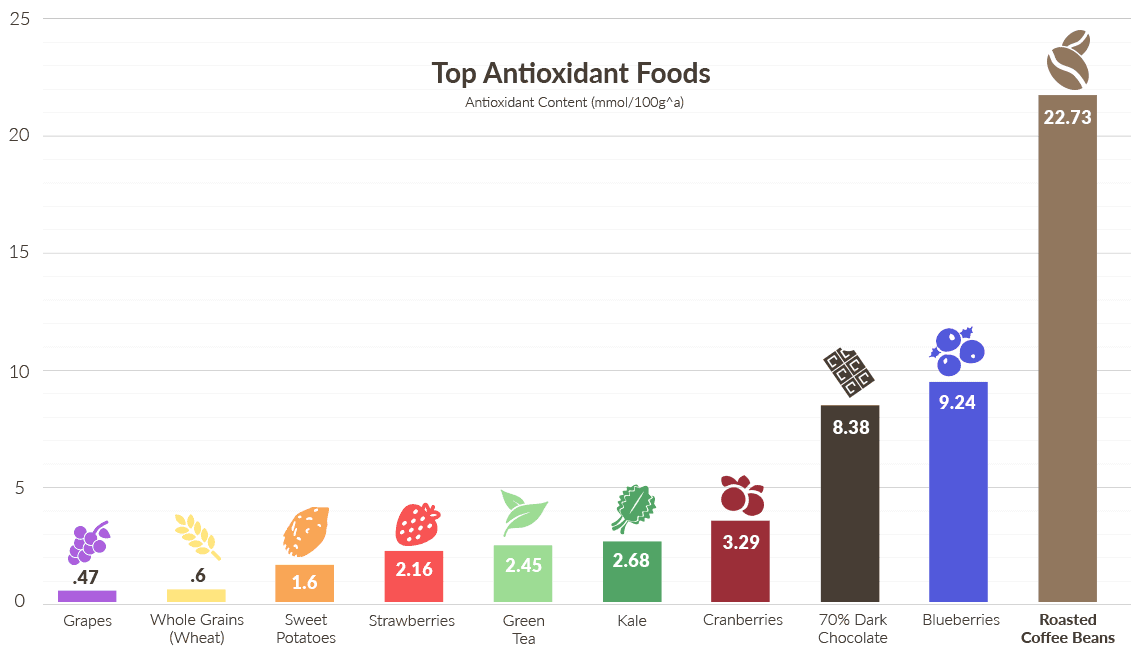 A beautifully balanced blend of Brazil Mar Azul and Columbia Canon Des Las Hermosas.
Very long sweet flavours of milk chocolate and lightly sweetened fresh cream with a nutty finish
Free From
Artificial colours and flavours
Aspartame
GMO
Suitable for halal and kosher diets
Suitable for vegetarian and vegans
Free From
Artificial colours and flavours
Aspartame
GMO
Suitable for halal and kosher diets
Suitable for vegetarian and vegans